Our Factory
HB Homes has a newly built purpose designed prefabrication 1800m2 building facility in the Industrial Zone of Irongate, Hastings. We have a long history of being based in Irongate and we have over the years gone from a small facility to now a large scale complex capable of 6 buildings being worked on at any given time under roof, with up to 4 on a 1200m2 concrete pad outside.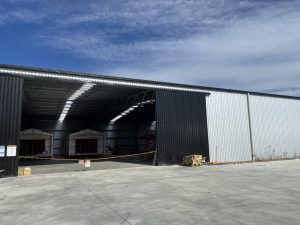 We have also honed our building process, which is streamlined, efficient and protects all the building materials used. There's no damp wood and weather is never an issue!
The facilities floor is lasered enabling mobile scaffolding is able to manoeuvre around the buildings. Plumbers are able to work under the building on mechanic trolleys and when required sub contractors can have staff on shift work, to complete buildings. Everyone is spread about with separate work areas and the buildings are completed to a closed in stage internally and then rolled outside for sub contractors to complete internal work.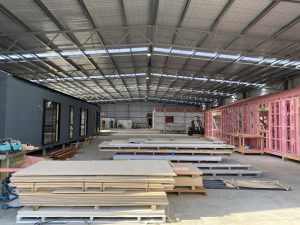 The buildings are alarmed and monitored so no time is wasted packing up equipment each day. There is limited waste as all offcuts are re sorted into reusable products such as pegs and profiles.
Over the years we have developed a strong relationship with EIT Hawke's Bay and trade students spend time at our facility building their own construction projects. So far EIT has built 50 1 and 2 bedroom houses.